Inca Jungle Trek
The Inca Jungle trek to Machu Picchu is by far the most adventurous trekking option in the Cusco region. It is also the most varied in terms of activities.
The 'trek' includes a massive downhill mountain biking experience, followed by possible river rafting on Grade III and IV rapids, jungle trekking, and optional zip-lining. It culminates with a visit to Machu Picchu.
Machupicchu Exploring Peru  offer the Inca Jungle trek on a 4D/3N itinerary, although it is possible to complete the trek on a 3D/2N itinerary (more on this below). Accommodation on the trek is in hostel or home-stays, with a night in a hotel in Aguas Calientes.
The trek naturally appears to adventurous types who like thrilling adrenaline-filled experiences. If you are looking for a pure Andean trekking experience, hate mountain biking and enjoying camping, then this trek is not for you. Rather check out these alternative treks to Machu Picchu or indeed, the Classic Inca Trail.
Below we have provided detailed information on the Inca Jungle trail itinerary and it's route map. We have also provided guidance on the best time for this trek, acclimatisation and altitude sickness, and equipment packing lists.
Inca Jungle Trek – Route Itinerary
The Inca Jungle trek is usually completed on a 4D/3N itinerary. The itinerary set out below is the most common; however you may see subtle variations from tour company to tour company.
Note: the 3D/2N itinerary skips the trekking option between Santa Maria and Santa Theresa on day 2, and instead uses car transport to take trekkers direct to Santa Theresa where zip-lining can be tried before continuing to Aguas Calientes.
Day 1: Cusco – Abra Malaga Pass – Santa Maria
The Inca Jungle trek starts with a 3-4 hour drive to the top of the impressive Abra Malaga Pass (4,316m).
Machupicchu Exploring Peru operators will either pick you up at your hotel in Cusco, Departure times vary but you will usually be on the road by 07:00.
The drive heads north out of Cusco (3,400m), and passes through the town of Chinchero before dropping into the Sacred Valley where you will get your first glimpses of the Cordillera Urubamba (prepared to be impressed). You will cross the Urabamba River into the town of the same name and continue onwards to Ollantaytambo (2,792m). Some tour operators might stop here for breakfast before continuing onwards and upwards along a very impressive and winding road to the top of the Abra Malaga Pass. This is the highest point on the trek (4,316m) and provides incredible vistas down into the highlands (see pics below).
You will disembark at the top of the Pass and start gearing up for one of the most exciting cycles of your life. The route from the top of Malaga Pass to the final destination is all downhill – 4,316m to 1,196m descent – and just under 60km in distance. Most people take 4-5 hours to cycle this section. The ride is not very strenuous, in fact you can free-wheel most of the way and will use the brakes more than the pedals; however, the route is very windy which can make it a little dangerous, particularly because there are many blind corners and the cars on the route (which are few and far between) drive like maniacs!
Machupicchu Exploring Peru  will provide high visibility vests, reliable mountain bikes and protective gear like a full cover helmet and potentially body-gear (this might be over-kill for some people). A back up vehicle usually drives in front of you and if you get tired or wish to stop, you can jump in the car
You will stop to have lunch en route and arrive at Santa Maria (1,196m) mid-to-late afternoon. If there is time and the season is right (typically October-April) you can go river rafting. This is an optional extra offered by some tour operators, and is sometimes charged separately. The cost is around US$30 per person.
Note: visibility is sometime very poor on the Abra Malaga Pass. If there is heavy fog your tour our  company will likely cancel the cycling excursion and instead drive you direct to Santa Maria.
Day 2: Santa Maria – Santa Teresa
After an overnight stay in Santa Maria, which is usually organised with a local hostel (set your expectations low with most hostels), is followed with an early breakfast. Today is a relatively big trekking day in terms of distance (~15km), but all at low altitude.
The trek begins with a steep and strenuous climb that gradually flattens, before continuing through a number of undulating trails, one of which is an authentic Inca trail. The scenery is vegetatively lush as you are in fact in the Jungle region of the Cusco region. Remember to wear insect repellent, and look out for nasty little sand flies that leave bites that can last for weeks.
On the trail you will see coca, coffee and various fruit tree plantations – everything grows in the Jungle! After lunch and 6-7 hours trekking you will reach Cocalmayo, an area known for it's hot springs. Most trekkers stop here for a dip so do remember to have your bathing suit at hand (see packing list below). From the hot springs the walk to your hostel at Santa Theresa (1,550m) is only 30 minutes.
Day 3: Santa Teresa – Hydroelectric Station – Aguas Calientes
On day-3, adrenaline junkies can try their hand at zip-lining.
The zip-lining option is sometimes included as an optional extra on tour packages, make sure you check if zip-lining is included in your tour price when you book. If it is an optional extra the cost is around US$30 and includes transport to the zip-lines and 3-5 zips, the highest of which is 150m above the ground. Here's a YouTube video from a previous trekker.
After zip-lining you will continue trekking for 2-3 hours to the Hydro-electic station, before either continuing along the railway treks for another 2 hours to the town of Aguas Calientes, or if you are tired you can catch a train to Aguas Calientes from the Hydro-electric station (approx. 45 minutes, cost: ~US$31!).
Trekkers not interested in zip-lining will start this trek first thing in the morning or wait in Santa Theresa until zip-liners have finished their airborne excursion.
Day 4: Aguas Calientes – Machu Picchu – Cusco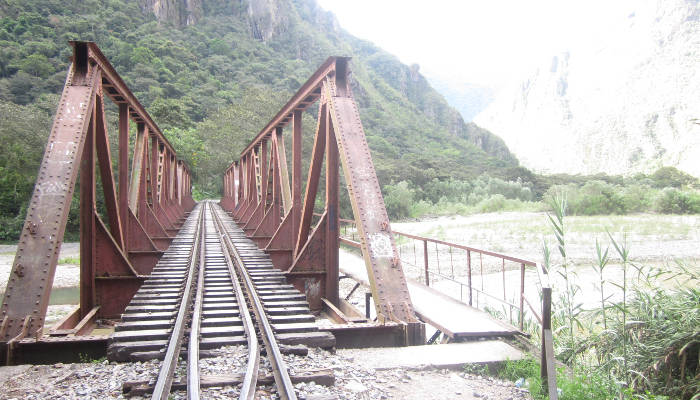 Day-4 usually starts with an early wake-up call from your hotel reception so you can catch one of the first buses up to Machu Picchu. Buses start running at 05:30 and take 30 minutes to reach Machu Picchu, which opens at 06:00. If you are trekking during the peak season (May-September) expect the queue for buses to start before 05:00. If you decide to get up early it is likely because you are keen to see sunrise from the Sun Gate (Inti Punku) which is a good 40-60 minute walk up a gradual slope from the Citadel.
After arriving at Machu Picchu early (super early if you went for sun rise), you will the be give a 2-3 hour tour of the Citadel.
It is well worth climbing Huayna Picchu if you still have the energy and are not afraid of heights. The climb is steep and strenuous, and takes the average trekker about an hour to reach the summit. The views from the top are awesome and well worth the effort. There are only 400 climbing permits a day so you need to book early. Here is a detailed guidance article on climbing Huayna Picchu and the other mountains that surround Machu Picchu.
After visiting Machu Picchu you will need to get a bus back to Aguas Calientes in time for your train  or Bus journey to Ollantaytambo. Machupicchu Exploring Peru  organise this train or Bus journey for you, and also provide a bus /  car to transport you from Ollantaytambo to Cusco.
Packing List for the Inca Jungle Trek
The packing list for an Inca Jungle trek is very similar to that of a Classic Inca Trail trek. We have written a very detailed guide on the required gear for an Inca trail trek and we suggest you use this as a template for the Inca Jungle trail.
The key difference on the Inca Jungle trek is that you will not be camping, and hence you won't need a sleeping bag or thermal mat as blankets will be provided at the hostels in Santa Maria and Santa Teresa.
Inca Jungle Trek, Inca Jungle Tour, Inca Jungle Trail Machu Picchu, Inca Jungle Trek Review, Jungle Tour Machu Picchu, Jungle Trek Cusco, Machu Picchu Jungle Trail, Inca Jungle Trek Reviews, Inca Trail Jungle Trek