Inca Trail
There are a number of ways to visit Machu Picchu, including catching a train or trekking on one of the alternative trails to Aguas Calientes – the town in the valley below Machu Picchu.
But none of these alternatives is as popular and arguably as impressive as the Inca trail trek to Machu Picchu (aka Camino Inca or Camino Inka).
Celebrated as Peru's most famous hike, and one of the world's most iconic trekking experiences, the Inca trail trek to Machu Picchu provides an awesome combination of sub-tropical Andean mountain environments, including cloud forest, alpine tundra and jungle, with an impressive array of Inca archaeological sites; some of which are worthy of a visit on their own!
The 'Classic' trail is typically completed on a 4D/3N itinerary but can also can be lengthened by a day or shortened to a 2D/1N trek on the so-called 'short Inca Trail'. There is also an option to combine the Salkantay trek with the Inca trail for an epic and challenging 7D/6N adventure.
Inca Trail trek – A short history
The Inca Trail to Machu Picchu is in fact a small part of a vast network of trails and roads built by the Incas.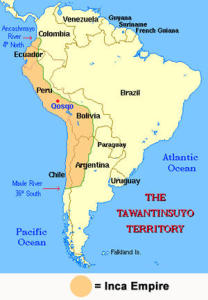 Depending on which resource you read, the Inca trails (or Qhapaq Ñanare, which means network of trails) are estimated to have covered anywhere between 23,000km and 45,000km in distance – basically a lot!
Consisting of mainly paved stone, the trails were integral in connecting the Tahuantinsuyo Empire, which ran from Colombia and Ecuador in the North; through Peru; Chile and parts of Argentina, and into Brazil and Bolivia (as seen on the map adjacent).
The trails varied in size from 6-8m roads at their widest (typically in the coastal areas) to narrow 1m trails in the mountainous regions of the Andes.
The trails were used for a variety of reasons including trade, efficient transport and war. Peruvian historian, José Antonio del Busto, believes the trails expanded rapidly under the rule of Huayna Capac, who is thought to have added 16,000km of trail to the network. Del Busto explains: "It is said (Capac) placed emphasis on the roads so as to be able to get his army around quicker and be able to crush the rebellions that flared up during his reign."
The one very unique characteristic of the trails is that they were built with the llama mind. The trails, particularly in the mountainous region, are steep, stepped and high – landscape characteristics that llama are well adept at traversing. Author Hugh Thomson writes in his acclaimed and highly recommended book, The White Rock: "We are used to a road system designed for the horse and then for the car: a system which tries at all cost to avoid steep gradients and whose ideal (so established by the Romans) is the straight road over flat ground. The Inca needs were very different: the expansion of their Empire was driven by the llama".
When the Spanish arrived in Peru in the 15th century they were amazed by the scale, ingenuity and beauty of the trails, despite having severe difficulty traversing them on horseback. Hernando Pizarro, one of the first conquistadors to arrive in Cusco, wrote, "The path in of the mountains is something to see, because it is built in very difficult terrain. In the Christian World we have not seen such beautiful roads. All of the crossings have bridges of stone or of wood."
Unlike the majority of trails, which were used for practical means, the Inca trail to Machu Picchu was solely used as a pilgrimage or religious route. It had no commercial use and is hence often referred to as the "Royal Road", "Royal Sacred Highway" or "The Road of the Inca King". The various Inca sites found along the 26-mile (45km) trail seems to support this theory.
Hiram Bingham, an American academic and explorer, who discovered Machu Picchu in 1911, was amazed when he discovered the Inca Trail leading to the city. Between 1913-1915 Bingham and his team uncovered much of the overgrown trail, and in the 1990s large portions of the route were restored.
Today, the trail, which is situated in the Historic Sanctuary of Machu Picchu, is considered one of the greatest trekking trails in the world and is hiked by thousands of tourists every year.
CLASSIC INCA TRAIL – 4D/3N
The yellow highlighted line on the map below shows the 4D/3N Classic Inca Trail that typically departs from KM82 (at 2,600m). Some trekking companies depart from KM88, but this is rare as cars can only go as far at KM82. If you are travelling by train from Cusco it is possible to start from KM88, but the trail from this starting point joins up with the route from KM82 very quickly so there is no significant difference in the starting experiences.
The total trek distance from KM82 to Machu Picchu is 45km (26 miles) and reaches a maximum altitude of 4,200m. It is a moderately challenging trek that can be completed by most people, as long as they are fit and well acclimatised (more on this below).
Day 1: Cusco – Ollantaytambo – KM82 – Wayllabamba
Day one consists of an early morning car or bus ride through the Sacred Valley, and a relatively easy ~12km trek.
You will be collected at your hotel early in the morning (usually between 05:00-06:00) by our  tour operator and transported from Cusco into the Sacred Valley. The drive takes approximately 3 hours to reach the starting point, called KM82 (named as such as it is 82KM by train from Cusco). On the drive you will pass through the towns of Chinchero, Urabamba and Ollantaytambo, you may stop for about an hour in either Urabamba and Ollantaytambo, where you can grab some breakfast and last minute supplies.
The trail from KM82 first crosses the Rio Vilcanota (often referred to as Urabamba River) before climbing steeply up from the Rio Cusichaca to a small local village. From here the Urubamba mountain range (or Cordillera Urubamba) will come into full view, with the impressive Mount Veronica (5,860m) showing off her glaciated summit.
On the other side of the village you will see an Inca fort called, Huillca Raccay, which was built as a strategic look-out point into the Urabamba valley and was likely used to control the Cusichaca valley. You will also be able to see, below you and on the other side of the river, another impressive Inca site called Patallaqta. Patallaqta was discovered by Hiram Bingham in 1911, on the same journey that he discovered Machu Picchu, and is an extensive Inca ruin that is thought to have been an agricultural settlement that was used to grow and supply food for the inhabitants of Machu Picchu.
The route continues for another 7-8km along a series of gradual undulations to the small village of Wayllabamba, which means 'grassy plain' in Quechua and is sometimes spelt Wayllapampa (3,000m). You will most likely camp here from the night, although some trekking companies continue a little further on to campsites near Ayapata (3,300m).
Wayllabamba is the point at which trekkers on the Salkantay / Inca Trail Combo trek join the Inca Trail, and is also the last spot on the trail where pack animals are allowed.
Day 2: Wayllabamba – Llulluchapampa – Warmiwanusca – Pacamayo
Waking early you will have breakfast and prepare for the toughest trekking day on the trail. Day-2 is a similar trekking distance to day-1 – ~12km – but involves going up and over the Warmiwanusca Pass (aka Dead Women's Pass), a 4,200m traverse.
The beginning of the trek is straightforward. After your first hour of trekking you will reach a bridge that crosses the Huayruro river. There is a campsite here, which has toilets so if you feel the call of nature in the morning, it might be best to wait until you reach this point.
Interestingly, Huayruro refers to a small tree that has red and black seeds, colours that are commonly seen on the ponchos of porters from Ollantaytambo. For this reason, porters from this area are often called Huayruros.
From here the trail begins to steepen, passing through cloud forest terrain that eventually reaches the small village of Llulluchapampa (3,680m) after ~3 hours of hiking. From here it is another 1.5-2 hours to reach the top of Warmiwanusca Pass (aka Abra de Huarmihuañusca or 'Dead Woman's Pass), which is situated at 4,200m. The route up can be hot and intense if the sun is out (make sure to wear sunscreen), or cold if it is cloudy / foggy and the wind picks up. Make sure you have layered clothing so you can layer up or down as necessary.
After celebrating your successful climb to the highest point of the Classic Inca Trail, you will descend for ~2km on a steep trail to the campsite for that night, which is located at Pacamayo (3,600m). You will be glad to know that there are toilet facilities at this campsite.
Note on Dead Women's Pass: It is named as such not because a women died on the pass but because the mountain slope, when viewed from the descending valley, resembles a supine women.
Day 3: Pacamayo – Runkurakay – Sayacmarca – Phuyupatamarc – Winay Wayna
Day-3 is another challenging day that covers ~15km and traverses two small passes.
The day begins with an hour-long trek up to the ruins at Runkuracay, an Inca site that is believed to have been used as a watchtower over the Pacamayo valley.
After another hours trekking you will reach the second pass on the Classic Inca Trail called Runkuracay Pass (aka Abra de Runkuracay), which is located at 4,000m. From here the trail consists of beautifully paved Inca trails and staircases. The first staircase down from Runkuracay Pass is relatively steep so take care with your footing. An hour along from the second pass you will reach Sayacmarca, an Inca ruin that features a beautiful stone staircase. The purpose of Sayacmarca is still unknown but the site's name means 'Inaccessible Town', which accurately describes the sites well-protected position at the foot of three steep cliffs.
From here the trail passes through an original Inca tunnel before climbing up to the third and final pass at 3,700m. On a clear day you will be presented with fantastic views of Salkantay (6,217m) in the south and Veronica (5,860m) in North.
Just after the pass you will reach Phuyupatamarca, one of the most impressive Inca sites on the trail (bar Machu Picchu). Phuyupatamarca or Puyupatamarca is also known as 'La Ciudad entre la Niebla' ('The City Above the Clouds') as it is situated at 3,200m. The site is accessed via a steep path that passes 5 original Inca baths that may have been used for spiritual or ritual reasons.
Leaving Phuyupatamarca you will be presented with an original Inca staircase of 1,000 steps. Prepare your knees for a tough descent. Go slowly and make sure of your footing. After 2-3 hours of trekking through cloud forest you will reach the campsite at Winay Wayna (which is the Quechua name for 'Forever Young'). Just south of the campsite are the ruins of Winay Wayna, an area that was likely used as the final resting spot before reaching Machu Picchu. The site has a number of Inca baths that were probably used as ritual cleansing areas before arriving in Machu Picchu.
Day 4: Winay Wayna – Inti Punku – Machu Picchu – Aguas Calientes – Ollantaytambo – Cusco
From Winay Wayna you will awake early (around 04:30) to have breakfast and start to 1.5 hour trek to Inti Punku (the Sun Gate). For the initial part of this trek you might need to use a head-torch (see Inca trail packing list below), although most operators only hit the trail around 05:30 when dawn breaks. The early departure is on account of trying to capture sunrise over Machu Picchu, which occurs between 06:30 and 07:00.
The trail from Winay Wayna runs through a cloud-forested contour path before reaching a steep flight of stone stairs, 50 in total, to Inti Punku. At the top of the staircase you will be presented with an unforgettable view as the famous Inca site of Machu Picchu is revealed to you.
You will enjoy the first views of Machu Picchu from Inti Punku for around 30-40 minutes before descending down a gradual path into the Citadel. From here you will register with the authorities and put your backpack in storage.
Most tour operators include a full 2-3 hour tour of the city before giving you free time to explore the ruins. If you still have the energy and are not afraid of heights then we recommend booking a place, prior to arriving at Machu Picchu, to climb Huayna Picchu (the iconic mountain behind Machu Picchu). There are only 400 climbing permits a day, and two departure times – 07:00 and 10:00am – so like the Inca trail, it is important to book early. You can find detailed information on climbing Huayna Picchu or Machu Picchu Mountain here.
After exploring Machu Picchu for a few hours, you will either need to catch a bus or walk down to Machu Picchu town (aka Aguas Calientes) in the valley below. The bus trip is usually included in your Inca trail tour price, but the walk down, which takes approx. 2 hours, is worth considering as it provides fantastic views of Machu Picchu's terraces.
Most tour operators will have booked a mid-afternoon train journey for you back to Ollantaytambo, where they will also have organised a bus / private car to transport you back to Cusco. If you depart Aguas Calientes at 15:00 you will get back to Cusco around 20:00.
Note: One can also do a 5D/4N Inca Trail itinerary which includes a night in a hotel in Aguas Calientes and an additional day at Machu Picchu. This is ideal for those who would like to spend more time at Machu Picchu (perhaps climbing Machu Picchu Mountain or Putucusi) and provides an opportunity to visit the hot springs at Aguas Calientes.
Alternatively, if you are looking for a shorter trekking experience then the 'Short Inca Trail', presented below is for you.
SHORT INCA TRAIL – 2D/1N
The Short Inca Trail (aka the 'one day Inca Trail', 'two day Inca Trail', 'Sacred Inca Trail' or 'Camino Real de los Incas'), is ideal for trekkers who don't have much time, or would like to do some light trekking that doesn't result in tired legs and blisters!
The trail starts at KM104 (highlighted yellow on the map below), and follows a one day route via Winay Wayna to Machu Picchu.
Up until 2002 the route could be completed unassisted, but is now highly regulated. Like the Classic Inca Trail you will need to book with a registered trekking agency, and secure a date well in advance as permits sell-out quickly.
Acclimatisation is less of an issue on the Short Inca Trail as the highest altitude reached is 2,700m, well below the altitude you would have acclimatised to in Cusco (3,400m). The trail can also be trekked all year round. Unlike the Classic Inca Trail, it is not closed in February.
Below we have provided the typical itinerary for the 2D/1N Short Inca Trail.
Day 1: KM104 – Winay Wayna – Machu Picchu – Aguas Calientes
Day 1 starts with an early train ride from Cusco into the Sacred Valley and to the starting point KM104 (named as such as it is 104KM by train from Cusco city). The journey is a very picturesque one and you will get to see amazing snow-capped peaks of the Urabamba mountain range.
Once at KM104 you will cross a bridge over the Rio Vilcanota and head towards the first stop, Chachabamba, an Inca ruin that was discovered in 1940 and was likely used as a important religious site and checkpoint guarding the Eastern side of Machu Picchu.
After a brief tour of Chachabamba you will continue up a cloud forested trail towards Winay Wayna, the point at which the Short Inca Trail joins the Classic Inca Trail. Winay Wayna is a good 2-3 hour hike from Chachabamba, and climbs 300m vertical meters so you may start feeling the altitude at this point.
Winay Wayna consists of an impressive Inca site that was likely used as the last ritual point on the Inca Trail pilgrimage. Near the site is a hostel, which goes by the same name, and is used as the camping spot for folks on the Classic Inca Trail. There is a small shop at the hostel where you can buy snacks and supplies, before continuing along the contour path that leads towards Machu Picchu.
After trekking for another 2 hours you will reach a steep and stoned Inca staircase that leads to Inti Punku (the Sun Gate) – prepare yourself for an amazing view of Machu Picchu at the top.
After briefly visiting Machu Picchu you will be transported to Aguas Calientes (the town in the valley below Machu Picchu), where you will spend the night in a hotel.
Day 2: Aguas Calientes – Machu Picchu – Cusco
The following day you will wake relatively early to catch a bus back up to Machu Picchu for a full 2-3 hour tour of the Citadel.
Many trekkers select to climb Huayna Picchu or Machu Picchu Mountain on this day, but this is only recommended to people who have the energy and are not afraid of heights. Permits for both mountains are limited so you need to inform your tour company at the time of booking your trek that you would like to climb either mountain. Click here to read about climbing Huayna Picchu or Machu Picchu Mountain.
After exploring Machu Picchu for the whole morning you will make your way back, either by bus (30 minutes) or walking (~2hours) back to Aguas Calientes to catch your train to Ollantaytambo. From here you will be transported by bus / car back to Cusco, arriving back at your hotel around 19:00.
Best time for an Inca trail trek
Two seasons dominate the weather in the sub-tropical Peruvian Andes – the dry season runs from late April through to early October, and the wet season starts in late October and continues through to April.
The Inca trail is busiest during the dry season months, particularly May-September. If you want to hike at this time in the year it is advised that you book your trek at least 6 months in advance.
The dry shoulder months of March / April and October / November, can also make a good time for trekking, although the probability of rain is higher.
December, January and February are the wettest months, and the Classic Inca Trail and Salkantay / Inca Trail Combo is in fact closed for maintenance in February (it is possible to trek the Short Inca Trail or any of the alternative treks to Machu Picchu during Feb).
Here is a schematic showing the average number of rain days per month in the Machu Picchu Sanctuary.
Temperatures in the region are fairly consistent throughout the year, with days reaching into the high 20 Celsius (70s and 80s Fahrenheit), and dropping into the low digits to sub-zero temperatures at night and in the early mornings.
Temperature fluctuations are also common as you ascend high passes or drop into sun-exposed valleys. It is important that you take layered clothing to adjust comfort levels as temperatures fluctuate throughout the day and across different levels of altitude (see Inca trail packing list below).
Micro-climates in the mountains mean that it is possible to encounter rain at anytime in the year, so do bring wet weather gear as well.
Acclimatisation and Altitude Sickness
The Classic Inca Trail is a high altitude trek that reaches a maximum altitude of just over 4,200m (close to 5,000m on the Salkantay / Inca Trail Combo). This means that it is possible to experience altitude sickness.
Unfortunately it is nearly impossible to predict ones susceptibility to altitude sickness as there is very little correlation with factors of age, gender, fitness etc. We do however know that going too high, too fast is a key contributing factor.
To avoid altitude sickness on the Inca Trail it is important that you understand the process of acclimatisation and spend at least 2 days prior to starting the trek acclimatising in Cusco.
Cusco, however, is already at high altitude (3,400m) so if you flying in from sea level it is very likely that you will experience mild altitude sickness symptoms after you arrive. Rest and loads of fluids for a few days is usually enough to starve off the symptoms of altitude sickness and acclimatise.
Inca Trail Packing List
The Classic Inca Trail is a trekking experience that requires certain basic hiking equipment. Many people arrive in Cusco woefully underprepared, which can have a negative impact on one's trekking experience.
To help you pack correctly for the Inca Trail we have put together the Ultimate Inca Trail Packing List which you can use to find out exactly what you need to take and what can be left behind or rented / bought in Cusco.
Fitness and Preparation
The Classic Inca Trail and the Salkantay / Inca Trail Combo are both moderate to tough treks (the latter in particular). You don't need to be super-fit or a marathon runner, but you should be in relatively good shape and have trained for a few months before arriving in Cusco.
The best type of training you can do is aerobic cardiovascular exercise like long distance jogging, swimming or cycling.
Inca Trail Trek, Inca Trail Hike, The Inca Trail, Inca Trail Tours, Inca Trail Permits, Inca Trail Peru, Inca Trail to Machu Picchu, Hike Inca Trail, Hiking Inca Trail